Strawbfest returns for its 33rd year to the Chevallum State School, bringing the very best of food, entertainment, community spirit, and of course strawberries, to the local community and beyond. On Friday 6th September, Strawbfest is set to be even bigger and better than ever before.
Strawbfest is a super-fun, entertainment-packed festival that has been running for over three decades with the unwavering support of the Twist brothers, a local family who until recently ran the strawberry farm directly opposite Chevallum State School.  Each year the family generously supplied literally tonnes of strawberries to the school to create all the delicious treats which have made Strawbfest so famous. But when the Twists stopped farming strawberries in 2018, it was clear to Principal of Chevallum State School, Linda Short, that for the event to continue the school would need to find new ways of working with local growers to celebrate all things strawberries! While Short says the festival is going to be a little different this year, she is confident it's going to be better than ever before!
"The Twist brothers connected us to another local farmer that's going to provide the fresh strawberries," she says.  "We are so proud to be partnering with the Queensland Strawberry Growers Association this year to join forces in lifting the profile of Strawberries in our local area while raising money for our lovely school".
In late 2018 the strawberry industry was hit hard in the aftermath of the dreadful tampering sagas. News channels across the country showed images of millions of tonnes of strawberries being dumped. This inspired the school community  to rally behind the industry that has supported Strawbfest for so many years.  
As the biggest fundraiser for the school, Strawbfest also makes the most of the fruit provided by the farmers which is, for one reason or another, unsuitable for fresh sale, to produce jams and syrups leading up to the event.
"The war on waste has come about in the last couple of years that have inspired a number of our sustainability initiatives at Strawbfest.  We're not there yet, but there's a big focus on making it a more sustainable event — even down to the packaging. The last couple of years we've had recycle stations. And compost comes back as soil to use in the school.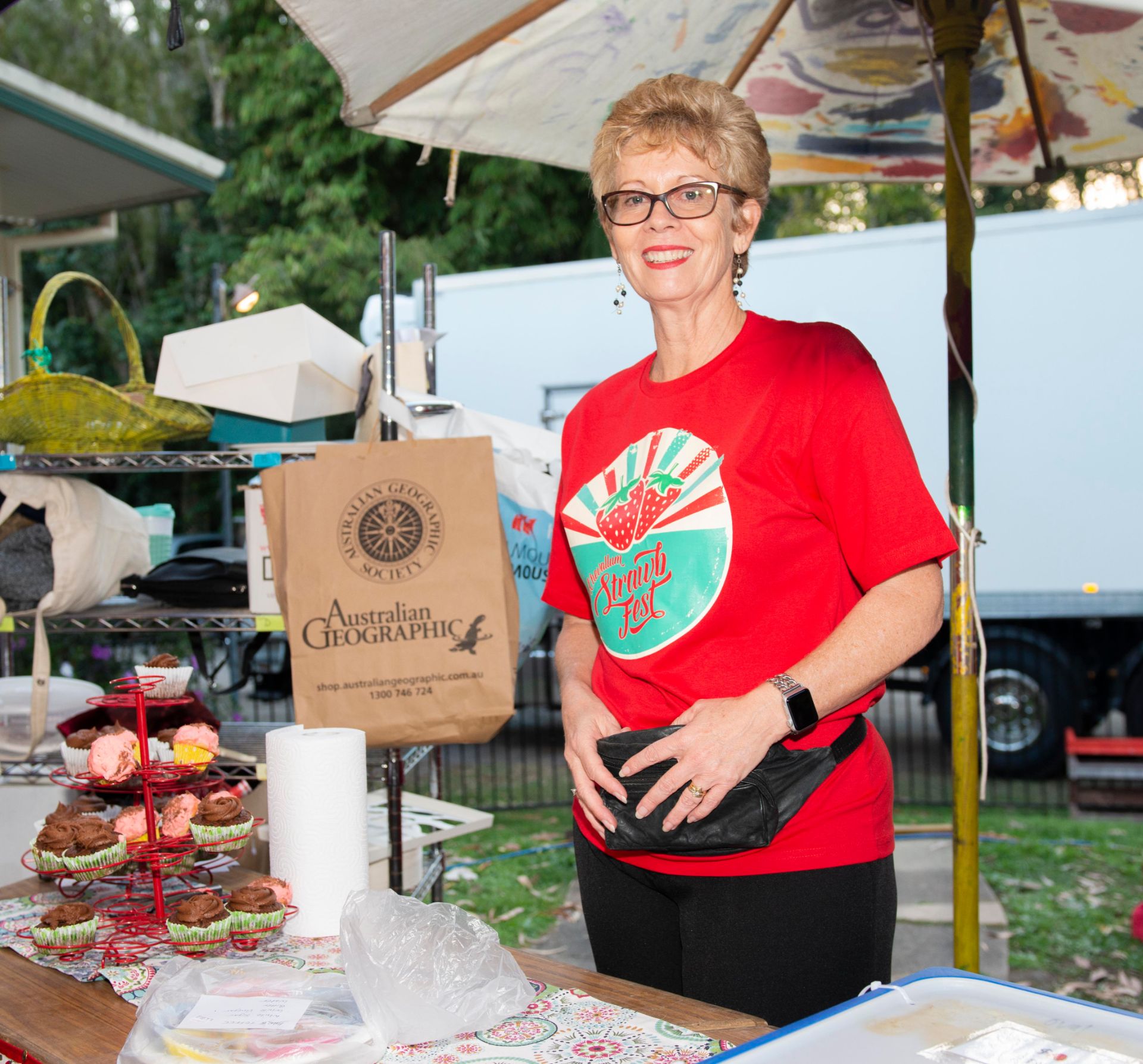 "If we weren't using the fruit it would never go to market and would be a waste product. So we use those small or ugly berries and turn them into delicious products which in turn benefits our families in the local community."
This year, the festival aims to support the growers who were hit hard in 2018. Short explains that they're a humble bunch who don't promote themselves, and they need to get on their feet.
"They've always been very generous, salt of the earth people and they would say things like 'we do this for the kids'. They didn't ever want recognition. So it's a win-win that we're back with Strawbfest," she says. 
Queensland Strawberry Growers Association (QSGA) representative Jane Richter predicts that this season, after a slow start, will see a bumper strawberry crop hitting the stores across August and September. With the industry still recovering from the senseless events of last year, it is more important than ever to educate the community on ways to use large amounts of strawberries when supply is plentiful to reduce the amount of waste and avoid prices plummeting due to sharp increases in supply.
Other exciting things happening at this year's strawbfest include a live broadcast from Mix FM, live music featuring local artists showcasing their talents on the main stage, side show alley, community involvement from Lions and Rotary, rides, and of course the many different strawberry food stalls. Expect to enjoy strawberry themed kebabs, choc dipped strawberries, pavlova, strawberry sundaes, syrup and jam. Chevallum State School community proudly mans all the stalls and each strawberry-themed dish (and all other foods available on the evening) are made from scratch by the school community. 
Short says that Strawbfest is like a mini Woodford Folk Festival and an institution for the school community.
"People don't know we are a school for the night and it's actually a mini festival that's family orientated, with food, entertainment and strawberry flavour across the whole festival."
Words by Caitlyn Spanner