If you have never heard of Strawbfest before, Strawbfest is a yearly event held at Chevallum State School on the first Friday of September.
At the heart of Strawbfest is the Twist Brother's Strawberry farm. Each year the Twists open up their hearts and allow the kids to pick tonnes of Strawberries.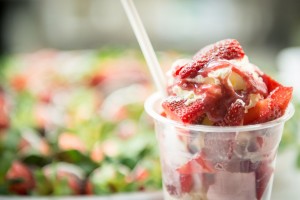 The parents then turn these strawberries into Strawberry and marshmallow kebabs, Strawberry
Dacquiri's, Strawberry topped pavlova's, Strawberry milk shakes, chocolate coated Strawberries, Strawberry syrup and strawberry jam.
The parents also make Sushi, Curries, Cakes, Pork Rolls, Sausage sandwiches and Ham Burgers.
There is also rides, great music, stalls and fireworks.