The Twist Brothers are kind, caring and hard working. They also happen to grow the most delicious strawberries you will ever taste in your life. I'm not exaggerating about the last bit. Their strawberries are OUT OF THIS WORLD!
Luckily, you don't have to wait till Strawbfest to eat their Strawberries. They sell their strawberries from the farm gate from mid-June to September.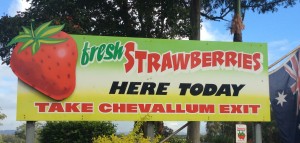 If you have time to pop in. We highly recommend you buy a punnet or three.
If you have visitors to the coast and you want to show off. Grab some of the twists strawberry and serve to your visitors. They will be impressed.
If you have a birthday party. Wow your guests with strawberry and marshmallow kebabs. Strawbfest style.
If you like your jam, made at the farm by the farmer. Grab a jar while you get your strawberries.