Strawbfest 2023
Friday 8th September

5pm til late
Join us at Chevallum State School,

for an evening of entertainment.


Filled with fun, laughter, and the sweetest strawberries on the Sunshine Coast!
♥  Fairground with full sized rides
♥  A licensed bar
♥  Traditional stalls
♥  LIVE music across 3 stages
♥  Side show alley
♥  Raffle with huge prizes!
♥  An abundance of strawberries
♥  Fireworks display (9pm)
♥  Petting zoo
♥  Kids activities
♥  Smorgasboard of world foods
♥  And much much more!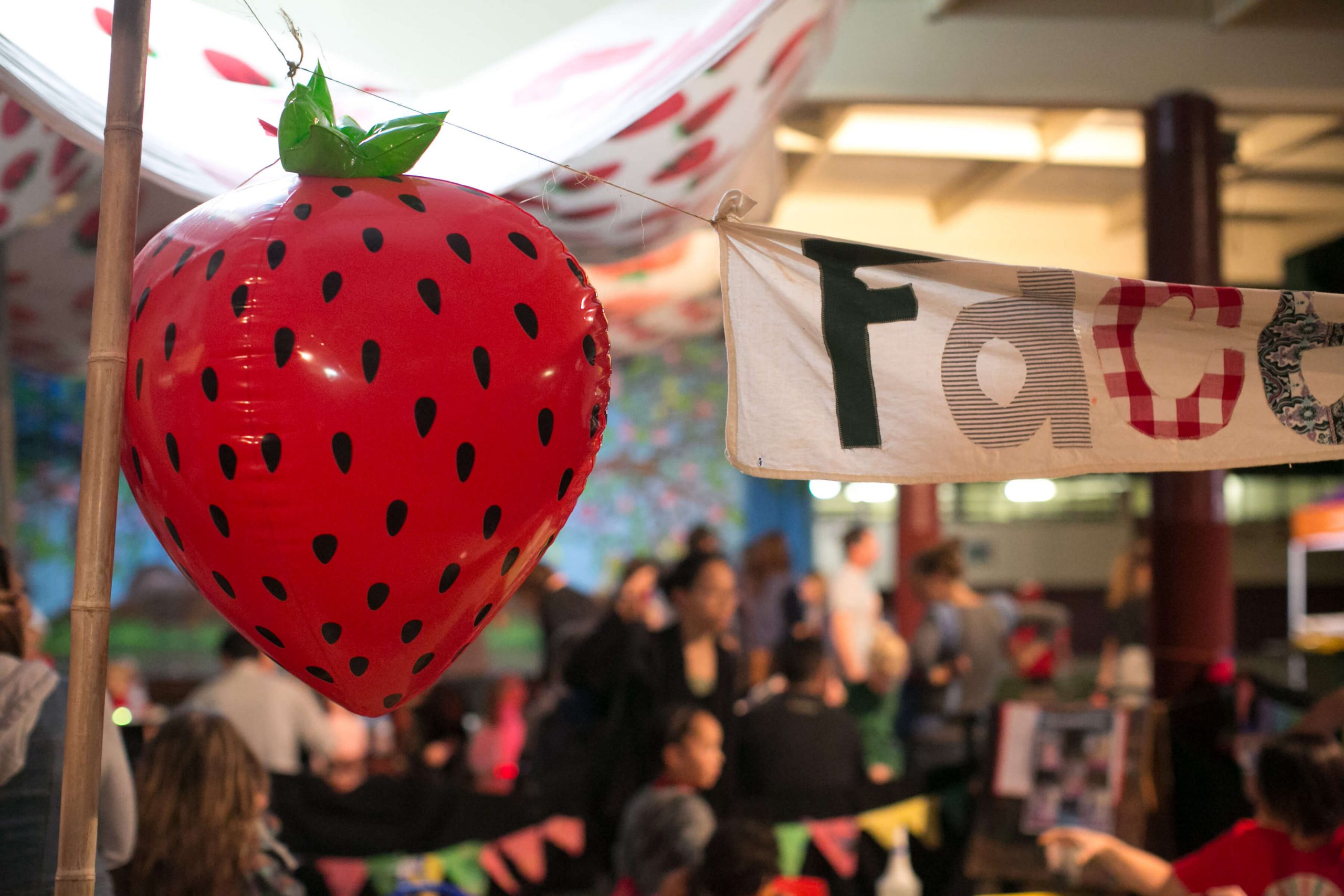 Entry to this amazing community event is free! 
Food and drinks can be purchased on the night.
Ride tickets can be pre-purchased on our shop page, or purchased on the night.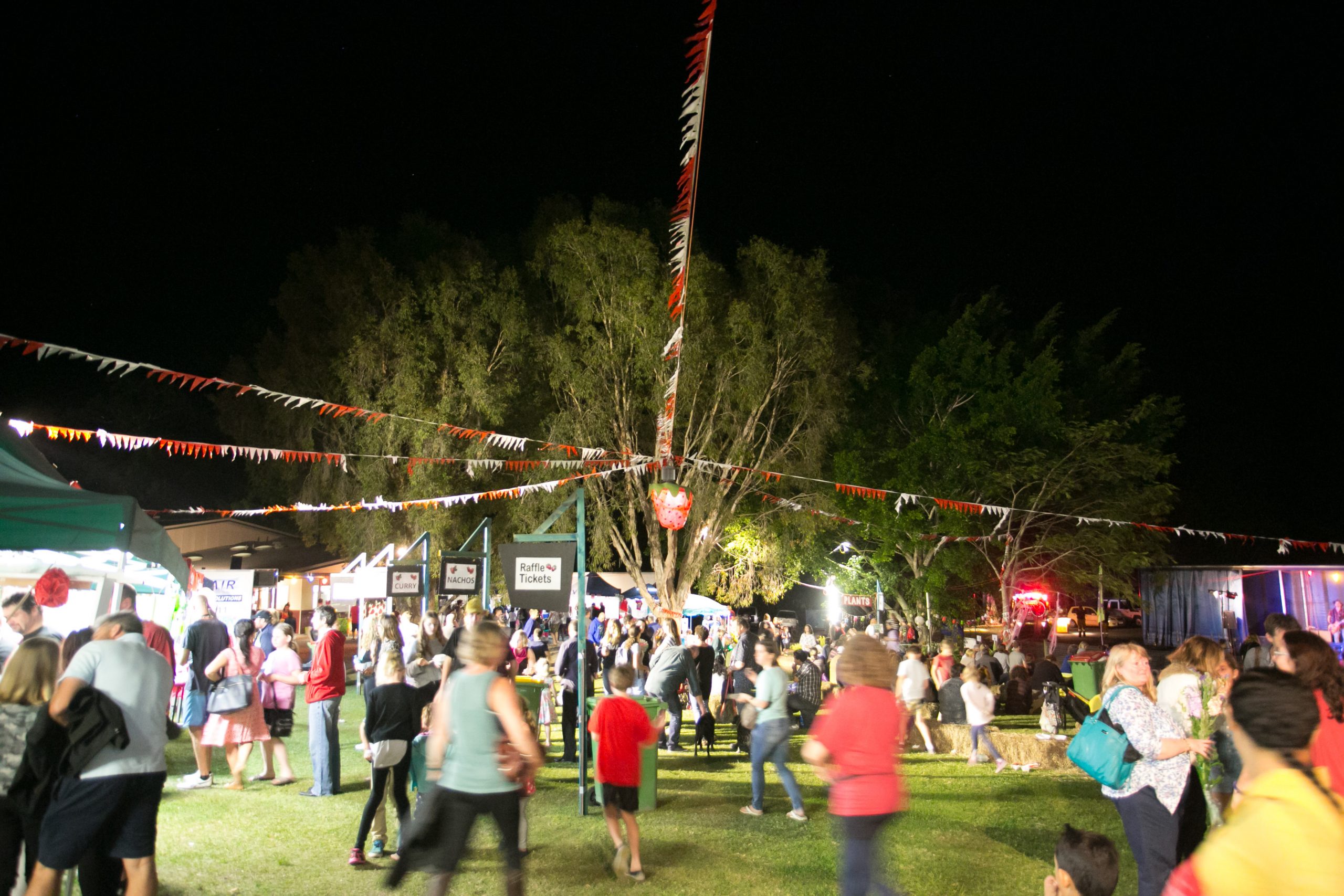 Strawbfest is a celebration of tradition, togetherness,
and the vibrant spirit of our community.
Mirroring the multicultural, community-centered influences in our school, Strawbfest 2023 will offer a smorgasboard of world foods and a variety of entertainment. As we celebrate the return of this beloved community event, prepare to indulge in mouthwatering strawberry treats, explore exciting games & activities, and create cherished memories with friends and family.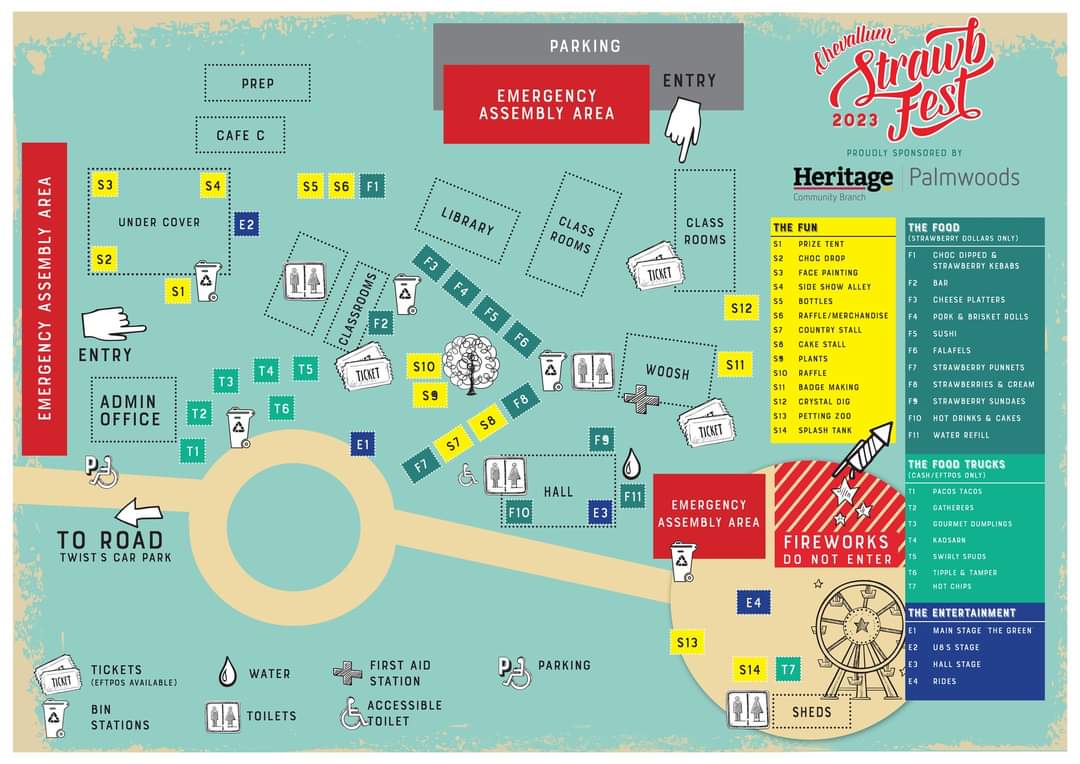 Strawbfest Site Map 2023
Chevallum State School
What should I bring?
– Reusable water bottle (we have free water filling stations for visitors).
– Jumper or Jacket (we are in the hinterland and it can get chilly after dark!).
– Closed in shoes (Trust us).
– Reusable bags (for carrying hard won prizes and stall purchases).
– A picnic blanket (to sit on whilst eating of watching the live music & fireworks!)
Child supervision
We kindly remind all parents and guardians, that all children should be supervised at all times whilst attending Strawbfest. This is not a drop and go event (even for older children).
What payments are accepted at the event?
The event uses "Strawb Dollars" at all stalls, games and rides. Food vendor trucks accept cash and card payments. 
To collect your Strawb Dollars, visit one of our exchange stations to chnage an amount of your choosing into Strawb Dollars. These stations accept cash and card payments.
$1 = 1 Strawb Dollar
Is the event pet friendly?
No. Strawbfest is hosted on Chevallum School Grounds and the school has a strict no pets policy on school premises (with the exception of service animals).
Where can I park?
Parking will be available at the event for a gold coin donation to Palmwoods Rural Fire Brigade. Signs will be up to direct traffic to the fields adjacent to the school. Pedestrian access to the main entrance of Strawbfest is via the school parking lot. Just head to the school grounds on Chevallum Road, Chevallum.
note: please do not attempt to park within the actual school grounds as this is a drop and go zone only. 
Is there access for people with mobility issues?
For visitors with limited mobility. There is a drop and go zone directly at the front of the school. Volunteers will direct you from there. Parking is opposite the school in the adjacent fields (see parking FAQ). Our school grounds are wheelchair-friendly. 
What is the artist line up?
Supporting Chevallum School for 37 years